Ph credits: The Guardian.
SaferPlaces' headquarters are in Emilia-Romagna and, unfortunately, our very region was affected in May 2023 by various waves of bad weather: in just under 20 days, as much rain as is usually seen in a year fell on the region, originating floodings of unprecedented magnitude within two weeks from each other's.
Due to climate change, these kinds of extreme weather events will very likely become more frequent and intense, highlighting the need for adequate tools and knowledge to face them, in order to save lives, prevent economic losses, and design more resilient cities.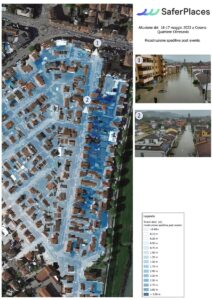 This is why we have built SaferPlaces, which enables rapid mapping of both potentially floodable areas and economic damage on a building-by-building basis. Our technology provides intelligence on flood risk, to quickly map both potentially floodable areas and the economic damage, building by building, caused by extreme events. Forecasting such events with a high-level of precision is crucial to understanding the risks of an area and how to act accordingly.
We collaborated with the Emilia-Romagna Civil Protection, by providing flood simulations to study the effect of embankment breaks and to identify possible early warning and evacuation actions. Figure 1 shows a comparison between the high probability flooding areas predicted by SaferPlaces and the actual flooded areas in the "Oltresavio" neighborhood in the Municipality of Cesena, which are predicted with surprising fidelity and high level of detail by our algorithms.
But this is not all. After the emergency, within the framework of an ESA InCubed project, the SaferPlaces platform was also used to generate flood water and depth maps, in order to take crucial decisions after the disaster and assess the damages of the affected areas.
Specifically, SaferPlaces' model-based algorithms were used to process together both terrain data (Lidar) and the mosaic of flooded areas obtained by processing multiple satellite data sources. Together with the Civil Protection, we analyzed the data from different sources: Copernicus Sentinel-1 and Sentinel-2 satellites, CosmoSky-med, Planet, SPOT. In-situ surveys conducted by each municipality were also integrated, to increase accuracy of the representation in urban flooded areas, when not captured by satellites. The result are maps portraying the extension of the flooded areas, with information on the depth and the volume of water involved. We produced these maps for the most affected municipalities: Faenza, Cesena, Forlì, Conselice, and for the overall region Emilia-Romagna.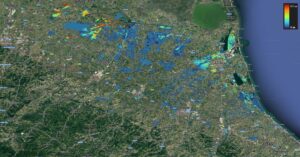 Our water depth maps provide crucial information for a preliminary flood damage assessment, to support the local and central authorities to estimate the funds needed and begin reconstruction as soon as possible.
Overall, the work done with the Civil Protection in Emilia-Romagna is a perfect example of how the potential of SaferPlaces platform and Earth Observation (EO) and Satellite data can be exploited to effectively support post-disaster evaluation and damage assessment analysis.
Read the complete report of all the activities that we have done with the Civil Protection of the Emilia-Romagna region.